Services
To bring more values to intangible IPs
Our expert staff specialized in both IP laws and specific technologies provide quality professional services to our clients.
(1) PRACTICE AREAS
Our practice areas cover intellectual property (IP) laws of:
Patents and utility models
Designs
Trademarks
Copyrights, and
Specific unfair competitions.
(a)

Patents, Utility models and Designs

As for patents and utility models, our attorneys have not only IP-related legal expertise but also technical knowledge encompassing the fields of:
Applied physics
Automotive technology
Chemistry
Computer software
Electric and electronic engineering
Electronic devices
Image processing
Information technologies
Material science
Machinery
Optics
Robotics
Semiconductors and electronic materials
System controls, and
Telecommunications
(b)

Trademarks

We provide a full range of services for trademarks, including pre-filing searches relative to registrability as well as against potential conflicts, and filing of applications with Japan Patent Office (JPO).
(2) SERVICES
We render various services such as:
Counseling concerning IP related issues
Dealing with post-grant proceedings
Offering expert opinions concerning validity of patents / potential IP infringements
Filing applications for patents, designs and trademarks
We represent our clients before JPO to file applications for patents, utility models, designs and trademarks. Each Japanese specification and a set of claims as translated from a foreign language are checked by our experienced patent attorneys before filing for possible adjustment to improve their linguistic quality.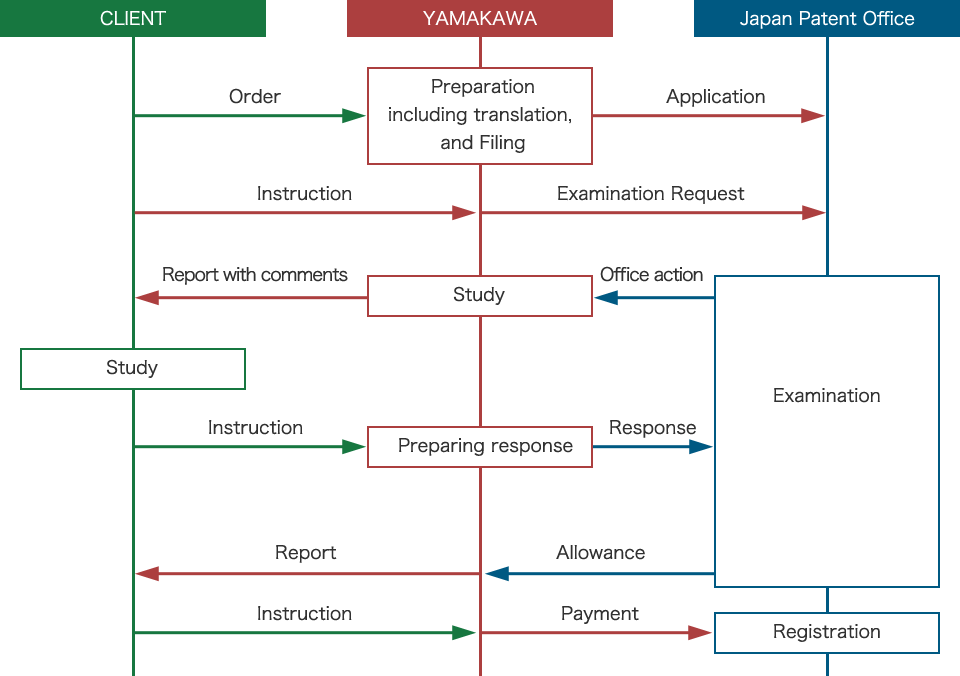 Prosecuting the applications In the course of prosecution, when an Office Action is received, we study the Action and any reference(s) cited and prepare for the clientโ€™s review our comments and proposed amendment toward best overcoming the Office Action. Then, in the event that it becomes required, we can make preparations for a JPO trial, or can, even further, deal with post-grant, aggressive or defensive proceedings before JPO on behalf of our client.
Litigation against a trial decision
An applicant may take action against JPOโ€™s trial decision. We take care of litigation against a trial decision before Intellectual Property High Court, Japan.
Enforcement and IP lawsuits
We also help our clients exercise their IP rights or defend themselves in IP lawsuits, involving technical as well as legal issues. Having relations with experienced lawyers, we can collaborate with them, if necessary, for our clients' sake.
Prior art search / Trademark search
We carry out prior art searches / trademark searches on request. As regards prior art, any relevant Japanese documents found through searches are scrutinized in consideration of the validity of the patents of the clientsโ€™ interest. With regards to trademarks, we conduct pre-filing searches for registrability as well as against potential conflicts.